Facebook has opened up its dynamic adverts product to travel brands.
On Tuesday the brand announced a variety of product updates to Facebook and Instagram to help advertisers drive demand and sales.
For the first time, businesses can find interested shoppers across Instagram and Facebook to drive sales on mobile, allowing brands to target people with destinations and hotels that they have expressed an interest in.
Facebook is also launching travel-specific dimensions to the ads – Dynamic Ads for travel – allowing advertisers to target people who have expressed an interest in a specific destination or a particular date.
Facebook said in a blog post: "To help travel advertisers connect with people who are planning and booking trips across devices, today we're also extending the power of dynamic adverts by introducing new travel-specific dimensions, including location and time.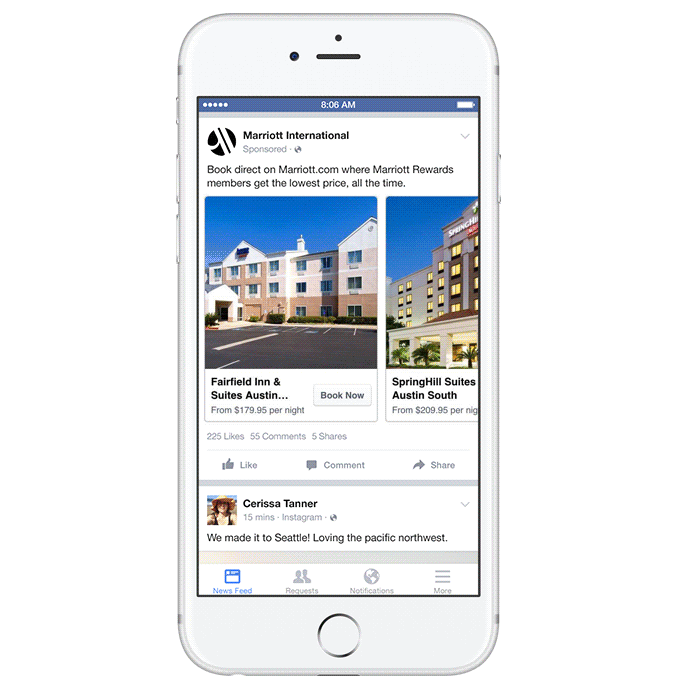 "With Dynamic Ads for travel, advertisers can show relevant messages to people who have expressed interest in travelling to specific destinations and during specific dates.
"Dynamic adverts for travel empower travel advertisers to offer hotel options to people who have shown interest in taking a trip, either by browsing hotels or by searching for and purchasing a flight.
"For example, a travel business can connect with people who viewed a hotel on their website by showing them an advert featuring the hotel that they viewed, along with similar hotels in the area.
"Advertisers can now also help people complete their trips by showing relevant hotels to people who have purchased flights on their website or in their app.
"And to help advertisers offer people the best experience, the hotel options shown include dynamic availability and pricing, so people always see the most up-to-date information."